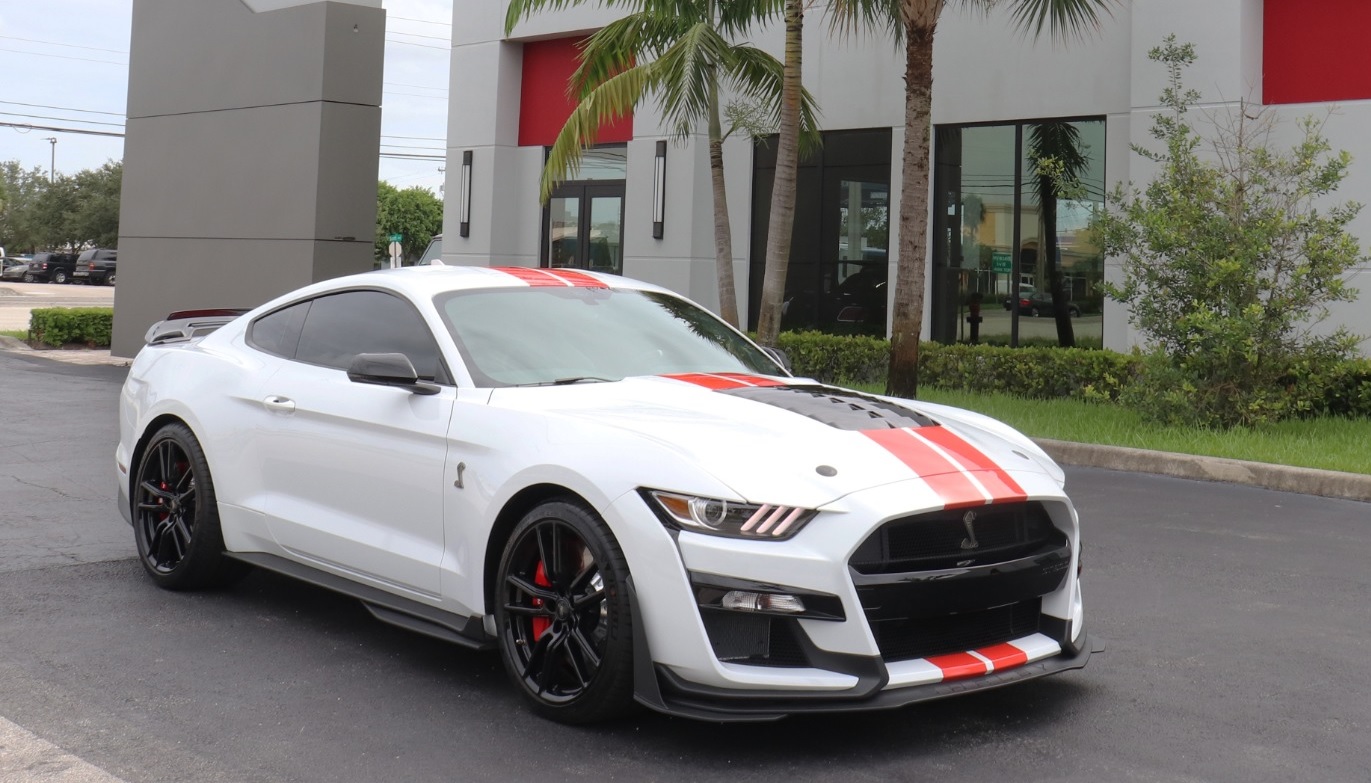 The Ford Shelby Mustang has long been a defining muscle car in automotive history. Its history dates back to 1965 when Shelby American debuted the first Shelby Mustang. Starting in 1968, Ford Motor Company took over production of this iconic pony car. Initially, the Shelby Mustang was only offered as a GT350, and the GT500 was introduced in 1967. Through a Ford Shelby Mustang GT500 review, you will discover that this classic nameplate was revived in 2005 and continues to be produced today. At Marino Performance Motors, our associates serving West Palm Beach Fort Lauderdale Boca Raton Delray Beach Florida are looking forward to telling you about the specific Ford Shelby Mustang GT500 cars in our inventory today.
Only 100 Ford Shelby Mustang GT500 cars with the fastback style were produced in 1967, and each was engineered with a Ford Cobra V8, 7.0-liter engine. In addition, only 139 of the convertible body style were produced that year. The Cobra nameplate was added in 1968. During this year, the GT500 came with a 360-horsepower, 428 Police Interceptor. Ford continued to innovate this model's powertrain with exciting updates generation after generation. In 2020, for example, a hand-built Predator V8, 5.2-liter engine with a supercharger was introduced, and it produced 760 horsepower. Our sales team serving West Palm Beach Fort Lauderdale Boca Raton Delray Beach Florida will happily assist you with a test drive of the GT500s in stock today.
While the exterior of the Shelby Mustang GT500 has become progressively modernized over the years, it retains its heritage and recognizable body language. A Shelby Mustang GT500 review reveals that the car has been available in both fastback and convertible body styles. This two-door model is recognized for its sleek, tapered profile and powerful front-end design. Depending on the specific model year that you are interested in, your next GT500 may have high-performance air intakes on the sides and hood. The rear fenders are precisely molded to optimize aerodynamics. The front-end design has evolved. Earlier model years have a wide grille with circular headlights and a chrome bumper. More recent model years feature a taller grille with tapered, aggressive headlights.
Originally, the Ford Shelby Mustang GT500 was styled with a tall, flat dashboard featuring a grooved top. The cabin included chrome-outlined, analog gauges and a sound system. Wood trim paired with contoured leather seats. Circular air vents for the AC system were added over the years, and the grooved dashboard and circular gauges have remained. If your Ford Shelby Mustang GT500 review takes you to a more recent model year, you will also find a color display screen for the infotainment system, a digital driver's panel, smart device app connections, hands-free calling and other modern equipment.
With decades of history, the Ford Shelby Mustang GT500 has impressively evolved yet has maintained its iconic features. Our associates at Marino Performance Motors are eager to help with your Ford Shelby Mustang GT500 review today. For assistance with your search, connect with our team serving West Palm Beach Florida today. Also serving Boca Raton and Delray Beach Florida.